That's right, forget hosta and forget heuchera.  Let's talk about milkweed.
It's a herbaceous perennial, it grows in sun, and it flowers in shades of yellows, oranges, pinks and purples.  It can be worked into native plantings, mass plantings, in borders and in garden beds.  It attracts hummingbirds and butterflies, and honeybees eat its nectar.
The plant tissue contains cardiac glycosides, a compound whose toxicity varies by specie, but which if ingested in a large enough quantity could supposedly wipe out a horse.  In fact, the genus, Asclepias, was named for the God of medicine and healing in Greek mythology.
But here's the important part – milkweed is host to monarch butterflies.  Monarch caterpillars munch on the leaves, ingest the cardenolides, and then have a bitter and sickening form of self-defense against predators.  Unfortunately, predators are not their only problem.
Monarch populations are in trouble as habitats shrink and weather patterns shift.  Also, depending on what you choose to believe, pesticide use may be a factor.
I have to admit, butterflies are not my forte, but Tom has a wonderful compassion for nature, and as I understand from him, one of the best ways we can help the monarchs is to plant milkweed.
It can be grown by seed, planted directly in the ground in the fall if it needs cold stratification, or by seed or small plant in the spring.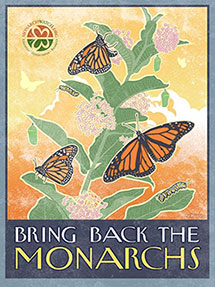 Find more details at http://monarchwatch.org/.